Electrical Safety and Educational Information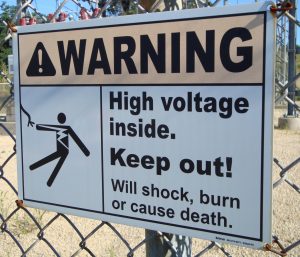 Electricity is a potent source of energy that powers lights, tools, machinery and many other devices necessary for our day-to-day work, however, it can also be a hazard causing injury or death.
Make sure that you only allow qualified personnel near electrical equipment on a jobsite.  Keep workers away from energized equipment or circuits and by train qualified workers on the correct procedures when working on energized equipment or circuits.
Learn more about commercial electrical safety in the documents and links below. If you have ANY questions about a potential safety situation, please contact us by calling us at (608) 296-2149.
Working Safely Around Downed Electrical Wires
Electrical hazards exist in some form in nearly all occupations. However, those hazards multiply for workers involved in cleanup and recovery efforts following major disasters and weather emergencies. One particular life-threatening danger
exists around downed and low-hanging electrical wires.
Controlling Electrical Hazards
This booklet provides an overview of basic electrical safety on the job. Electricity is essential to modern life, both at home and on the job. Some employees — engineers, electricians, electronic technicians, and power line workers, among them — work with electricity directly. Others, such as office workers and sales people, work with it indirectly. Perhaps because it has become such a familiar part of our daily life, many of us don't give much thought to how much our work depends on a reliable source of electricity. More importantly, we tend to overlook the hazards electricity poses and fail to treat it with the respect it deserves.
Working Safely with Electricity
Working with electricity can be dangerous. Engineers, linemen, electricians, and others work with electricity directly, including overhead lines, cable harnesses, and circuit assemblies. Office workers and salespeople work with electricity indirectly and may also be exposed to electrical hazards.
Electrical Safety
Electrical hazards can cause burns, shocks and electrocution (death). Download and print this quick reference guide to post at your place of business.
For more electrical safety information, click on the logos below.